Bedrift

Kongsberg Gruppen

Søknadsfrist

09.04.2023

Bransje

Holdingselskaper

Utdanningskrav

Påkrevet

Arbeidserfaring

Ønskelig

Adresse

, Kristinehamn, Sweden
Värmland
search.country.SWEDEN

Antall stillinger

1

karriere-kode

5073481

Oppdatert 16.03.2023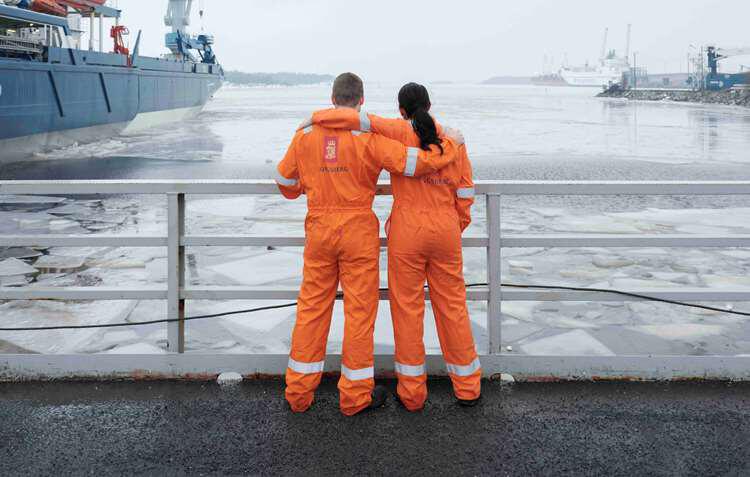 Utgått annonse
Søknadsfristen for denne jobbmuligheten er passert
Kongsberg Gruppen
Technical Sales Support in hydrodynamics
Holdingselskaper
An exciting opportunity has arisen for driven engineers who wants to work in a combined role within hydrodynamic sales support and design. Since we are expanding our team with two people, we are open to hire experienced or recently graduated team members. If you're new to hydrodynamics we will provide you with relevant training needed to succeed in this role.
As Technical Sales Support, you will be part of our Global Customer Support division, working with upgrades of existing customer products. You will have a close and effective collaboration with aftermarket sales function and the team of experts in hydrodynamic to create the best upgrading design. You communicate this solution to the customer and motivate how we can translate their needs into the most efficient product upgrade, for example to reduce their fuel consumption. In this role, you will work with all products in our range, consisting of propeller, waterjet, POD and rudder, and customize the solution based on the specific vessel's needs.
You are the one who is driving and creating the hydrodynamic design in CAD and our in-house developed software PropCalc, which is our tool used for sales, design and engineering of ship propulsion equipment. Through simulation and testing in our own laboratory, we have a unique opportunity to deliver high-end products with the right effect, power and quality. In this role, you will develop a deep understanding how our propulsion systems integrate and works in different vessels and applications. Through this experience and expertise, you will contribute to product development, research and business intelligence to understand our customers' future needs.
What we can offer
We offer an inspiring and safe work environment in a position with a wide range of challenging work tasks with the opportunities to make a real difference and develop on a personal level. We work with unique products at a world leading supplier of maritime solutions in an international environment where some travelling can be part of your work based on interest and project. We can offer flexible working hours and the option to work partly remote based on your work tasks.
Qualifications and experience
You have at least a bachelor's degree in mathematics, mechanical engineering, engineering physics, Naval Architecture or equivalent. Knowledge in fluid mechanics, CAD and numerical simulation (CFD) is seen as positive, but not a requirement. An interest in sales processes and a commercial mindset contributes to learn and understand how to work with quotations and costing. In our global organization high level of English, both written and spoken, is important. Communication skills in other languages is considered an advantage.
We appreciate your ability to act on own initiative and analyze complex issues and problems to come up with rational judgments. In this position collaboration is key to succeed, therefore we value your personal characteristics highly and your ability to co-operate well with others, communicate clearly, share knowledge, and support your colleagues in the pursuit of team goals.
Location: Kristinehamn, Sweden
Last day to apply 2023-04-09
For this position we work with personality and ability tests, which may be sent to you if you proceed in the process.
Since we are a company working with customers in the Naval segment, questions related to citizenship will be part of the selection process.
Point of contact
Åsa Windfäll, Manager Technical Sales Support
Julia Palmqvist, HR Specialist
Kongsberg Maritime, a subsidiary of KONGSBERG, is a global marine technology company, providing innovative and reliable technology solutions for all marine industry sectors including: merchant, offshore, subsea and naval. Headquartered in Kongsberg, Norway, the company has manufacturing, sales and service facilities in 34 countries. Kongsberg Maritime is part of KONGSBERG, an international, knowledge-based group delivering high-technology systems and solutions to clients within the oil and gas industry, merchant marine, defence and aerospace.
Kongsberg Maritime has a commitment in Sustainable Development Goals and for us, the oceans and marine resources are important. We therefore strive to develop products that help reduce emissions and damage to life below water. We believe in a workplace characterized by diversity and together we can create a work environment that brings the best out of everyone. We are very positive that you want to contribute to our development, and that you want to develop within Kongsberg.
Kongsberg Maritime in Kristinehamn consists of 280 engaged people working with sales, research, development, design, service and assembly of market leading solutions for different types of vessels. Our Hydrodynamic Research Centre provides world leading CFD and Testing capabilities in support for our Product centres and customers.
Our Global Customer Support division is responsible for Kongsberg Maritimes services, upgrades and support in the aftermarket. Our 2300 employees are present in 35 different countries around the world. During the operational lifetime of more than 30.000 installations, we ensure cost-efficient delivery of services, upgrades and spare parts in order to secure availability and predictability to our customers.
WORLD CLASS – through people, technology and dedication
Bedrift

Kongsberg Gruppen

Søknadsfrist

09.04.2023

Bransje

Holdingselskaper

Utdanningskrav

Påkrevet

Arbeidserfaring

Ønskelig

Adresse

, Kristinehamn, Sweden
Värmland
search.country.SWEDEN

Antall stillinger

1

karriere-kode

5073481

Oppdatert 16.03.2023