Bedrift

KappAhl AS

Søknadsfrist

31.08.2022

Stillingsfunksjon:

IT

Stillingstype:

Day

Bransje:

Holdingselskaper

Utdanningskrav:

Påkrevet

Arbeidserfaring:

Ønskelig

Adresse:

, Göteborg
Västra Götaland
search.country.SWEDEN

Antall stillinger:

1

karriere-kode:

4694039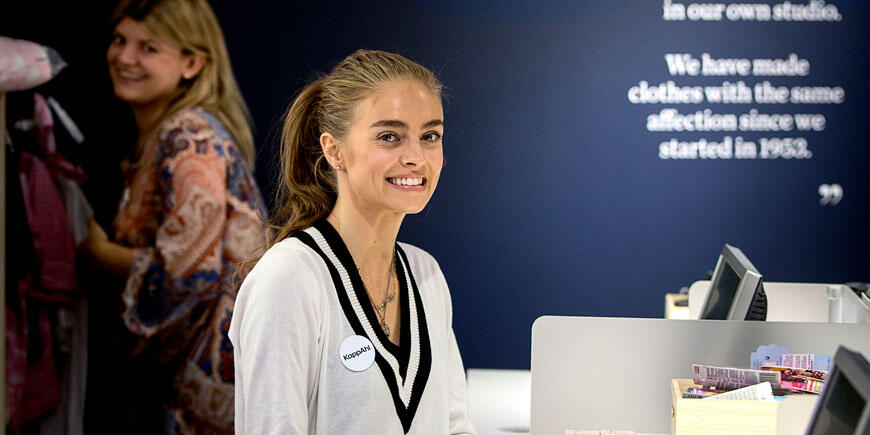 KappAhl AS
System analyst - our technical Go To person for Customer Communication & Newbie brand online sales
Holdingselskaper
We love our customers! Both the ones that know us well and already joined our member club and the ones that not yet made our acquaintance. We are continuously working on the relationship with our customers on present markets and to find new customers on newer markets. Would you like to join us on the journey? If you are a curious team player that like change, development and have a passion for technics, you should apply for system analyst for customer communication & Newbie brand online sales at Kappahl HQ in Mölndal.
Kappahl exist to celebrate diversity in everyday life. We want to broaden the definition of diversity to include many different ways of living life – empowering people to stay true to themselves at any given time, our customers as well as our employees.
At Kappahl IT we gathered all our IT activities, all between implementation of new applications and services to own system development and more traditional IT operations. To work at Kappahl IT is a nice mixture of technics and the speed and creativity that retail gives.
All working at Kappahl HQ is situated under the same roof, that creates short informal decision paths and the ability to move fast. It creates a unique mix of people with different background and competence.
We offer you
A role where you will know the technical setup of the solutions in the area and how they interact with the rest of the IT landscape. The team consist of members from both business and IT, who work together to maintain and continuously develop the feature of the technical solutions that supports the business in the IT support for the area. You will be a valued member of the team as the "goto person" of technical issues.
The systems in your area are mainly SaaS applications and services that supports both customer communication, including our brand-new CRM system, as well as our Newbie ecom sites and future system support needed to support new business opportunities online.
You will be in the center of all technical changes made in your area, both in projects and in the daily work of continuously improve your solutions and responsible for building sustainable and flexible solutions. A part of your role is also to handle technical incidents and maintenance of the systems in your area. You work closely with your own team, our partners and other IT teams at Kappahl.
Your profile
We are seeking you who are curious, solution-oriented and likes to drive solution from idea to implementation. You are passionate about technics and like to be creative and find new ways, but also to get immersed in a challenging problem. We work in teams, it's therefore important that you like to cooperate with your colleagues and are communicative.
You have
• An academic degree within a relevant field
• Solid experience of similar IT solutions, previously worked in a technical role with SaaS applications and services and APIs
• We value experience of working with the customer journey and customer loyalty club or with ecom, but it is not a must. Any experience of Voyado or Shopify is meritorious
• You can communicate freely in English and Swedish.
You recognize yourself in our values – Inclusive, Courageous and Joyful!
Are you interested?
The position is a permanent employment with placement at our head office in Mölndal. Kappahl wants to be A Place To Belong therefore we work with a hybrid working environment. This means you can work remotely when it is more suitable for your work schedule.
Kappahl celebrate diversity and strive to eliminate all forms of discrimination. We are committed to creating an inclusive environment for all employees and candidates.
You apply easily by attaching your CV (please refrain from sending us your personal letter). We apply continuous selection. We look forward to your application as soon as possible, but no later than the 31 of August 2022, via www.kappahl.se/lediga-jobb.
Contact information
If you have questions about the position or the recruitment process, you are most welcome to contact Anki Jansson, IT Manager, anki.jansson@kappahl.com.
Bedrift

KappAhl AS

Søknadsfrist

31.08.2022

Stillingsfunksjon:

IT

Stillingstype:

Day

Bransje:

Holdingselskaper

Utdanningskrav:

Påkrevet

Arbeidserfaring:

Ønskelig

Adresse:

, Göteborg
Västra Götaland
search.country.SWEDEN

Antall stillinger:

1

karriere-kode:

4694039