Bedrift

Kongsberg Gruppen

Søknadsfrist

15.10.2023

Bransje

Holdingselskaper

Utdanningskrav

Påkrevet

Arbeidserfaring

Ønskelig

Adresse

, Kristinehamn, Sweden
Värmland
search.country.SWEDEN

Antall stillinger

1

karriere-kode

5363542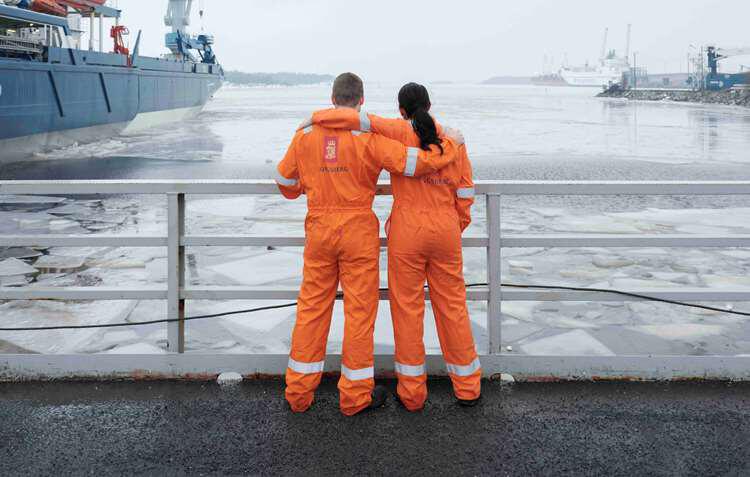 Kongsberg Gruppen
Security Manager
Holdingselskaper
At Kongsberg, we believe that we can achieve world class solutions through dedicated people and continuous improvement of our technology. We have a commitment in Sustainable Development Goals and for us, the oceans and marine resources are extremely important. We therefore strive to develop products with reduced emission and damage to life below water. We believe in a workplace characterized by diversity and together we can create a work environment that brings the best out of everyone. We are very positive that you want to contribute to our development, and that you will want to develop within Kongsberg.
At Kongsberg Maritime Sweden, an exciting opportunity has arisen as Security Manager.
The role is responsible for information security and security topics and areas that make a significant impact across the global company.
In this role you will manage, implement and follow up all security frameworks, policies and strategies,
while also maintaining, informing and providing support around these areas. You will also have the opportunity to work across a variety of customer projects
An additional important aspect of this position is continuously developing security management processes as well as developing new functionalities to meet both new and changing threats for the company.
The Security Manager role reports directly to the Site Manager in security matters, this varies in legal matters, with the reporting line being to Department Managers and in functional matters, to Kongsberg Maritime Functional Manager.
Key accountabilities
You will be responsible for compliance, security and IT-systems, instructions and security clearance, ensuring adherence to Swedish and international regulations in relation to all matters of company security including the handling of classified information. This includes responsibility for compliance of our certification with the Swedish Transport Agency related to Known Consignor air freight.
As Security Manager, you are the company's first point of contact with both the police authority and Swedish Security Service.
Additional responsibilities include the management, delivery and continual improvement to KMAB Security information process and instructions and KMAB Security trainings as well as promoting a security-conscious organisational culture.Top of Form
What we can offer
We offer an inspiring and safe work environment with the possibility to work with sustainable and exciting solutions for the future. This is a position with a wide range of challenging tasks. Working within a world leading supplier of maritime solutions in an international environment and in multidisciplinary team collaboration, you will have ongoing opportunities to make a real difference and develop on a professional and personal level. Some travelling will be part of this role.
Kongsberg offers flexible working hours and the option to work partly remote based on your work tasks.
Qualifications and experience
To best fulfill the position needs and make this a perfect fit, you will have university or college education in a relevant area or other education and work experience that we consider equivalent.
Hands-on audit participation and the following-up of information security against internal functions and external suppliers, as well as experience participating in internal and national security protection networks are necessary to succeeding in this position.
Previous experience working with Cyber Security in critical environments (IT security and information security), developing and preparing governing documents and training within the areas of security and information security is expected. Knowledge of ISO / IEC 27001 is highly advantageous.
To succeed in this role, you are a team player with a collaborative attitude and ability to communicate in a clear and structured way. You have a proactive approach and are prepared to act on your own initiative. You can analyze complex issues and problems and come up with rational judgments. You are systematic in your approach, planning and setting clear priorities for your work while keeping focused on the pursuit of team goals.
Regular communication with both international customers and colleagues is a critical part of this role, therefore an excellent level of both oral and written English is necessary. Fluency in additional languages is advantageous.
We are looking for you
You have great experience in security and information security and probably have a background of similar service in the Armed Forces, the police, other authority or company in the defence industry. As a person, you are accurate, structured and detail conscious. It is of utmost importance that you have great integrity and sensitivity. Contact with authorities, and interpreting government information, is something you are used to, as well as documentation regarding security.
You are a team player with a good ability to work both independently and together with others, with a natural desire to share your knowledge and expertise regardless of who target groups are. A confident communicator, you are able to deliver information in a clear, precise and structured way to varying audiences. You are analytical, structured, careful to keep order and can adapt both your manner and work easily based on changed conditions. Comfortable networking and building new relationships, you are able to utilise your network to achieve set goals. You have the ability to quickly familiarize yourself with and understand business's various challenges and needs, along with understanding the informal rules and structures within an organisation to effectively to get things done.
You have a proactive approach and are prepared to act on your own initiative as well as accepting responsibility for your actions. You can analyze complex issues and problems and come up with rational judgments.

More about the job
This position requires a security clearance. This means that a security clearance and register control will be carried out in accordance with the provisions of the Security Protection Act before employment. Furthermore, you must be a Swedish citizen. We place high demands on our employees' security and privacy awareness and great emphasis on personal suitability is required.
Work location
Kristinehamn
Point of contact
Thomas Wernholm, Manager - Assembly, Operations & Security
Thomas.wernholm@km.kongsberg.com
+46 73 438 98 05
Patrik Kron, Chief of Naval Systems
Patrik.kron@km.kongsberg.com
+46 70 376 41 85
Georgina Fielding, HR Specialist
Georgina.fielding@km.kongsberg.com
+46 76 894 55 92
Welcome with your application as soon as possible, but no later than 2023-10-15.
Selection and interviews may be conducted during the application period. In this recruitment we utilize pre employment testing, which may be sent to you if you proceed further in the recruitment process.
Kongsberg Maritime, a subsidiary of KONGSBERG, is a global marine technology company, providing innovative and reliable technology solutions for all marine industry sectors including: merchant, offshore, subsea and naval. Headquartered in Kongsberg, Norway, the company has manufacturing, sales and service facilities in 34 countries. Kongsberg Maritime is part of KONGSBERG, an international, knowledge-based group delivering high-technology systems and solutions to clients within the oil and gas industry, merchant marine, defence and aerospace. Kongsberg Maritime has a commitment in Sustainable Development Goals and for us, the oceans and marine resources are important. We therefore strive to develop products that help reduce emissions and damage to life below water.
Kongsberg Maritime in Kristinehamn consists of 310 engaged people working with sales, research, development, construction, service and assembly of market leading marine solutions.
Kongsberg – Protecting People and Planet
Bedrift

Kongsberg Gruppen

Søknadsfrist

15.10.2023

Bransje

Holdingselskaper

Utdanningskrav

Påkrevet

Arbeidserfaring

Ønskelig

Adresse

, Kristinehamn, Sweden
Värmland
search.country.SWEDEN

Antall stillinger

1

karriere-kode

5363542