Bedrift

Kongsberg Gruppen

Søknadsfrist

12.02.2023

Bransje

Holdingselskaper

Utdanningskrav

Påkrevet

Arbeidserfaring

Ønskelig

Adresse

, Kristinehamn, Sweden
Värmland
search.country.SWEDEN

Antall stillinger

1

karriere-kode

4954067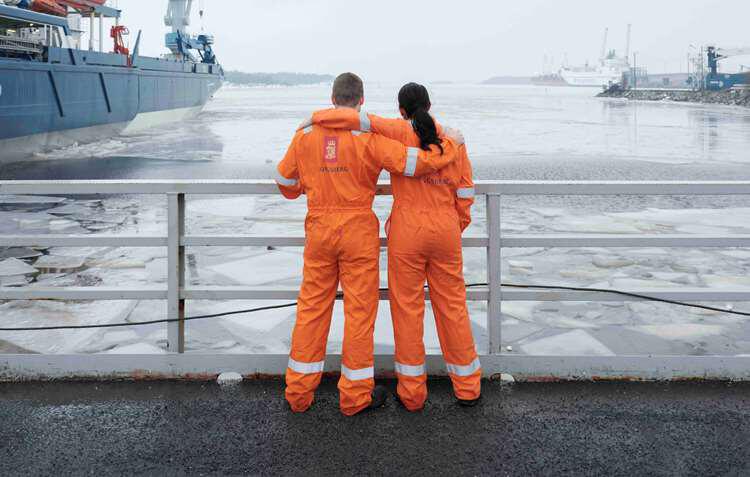 Kongsberg Gruppen
Project Manager
Holdingselskaper
At Kongsberg, we believe that we can achieve world class solutions through dedicated people and continuous improvement of or our technology. We have a commitment in Sustainable Development Goals and for us, the oceans and marine resources are important. We therefore strive to develop products with reduced emission and damage to life below water. We believe in a workplace characterized by diversity and together we can create a work environment that brings the best out of everyone. We are very positive that you want to contribute to our development, and that you want to develop within Kongsberg.
An exciting challenge has arisen when we are looking for two Project Managers who can lead our marine aftermarket projects to deliver propulsion products, including control systems, to vessels globally. If you thrive with great responsibility and like to run projects from start to finish, we can offer you a great opportunity to work in a developing role in an interesting and varied work environment with international collaboration.
At Kongsberg Maritime in Kristinehamn, we are experts on delivering high-end propulsion solutions for the maritime sector. To deliver top-class service together with our world class products, we need sharp aftermarket Project Managers who can provide the customer with a solid and confident experience throughout the whole product life cycle. You will become member of a team focusing especially on customer-specific commitments and here, the level of ambition is high when it comes to customer experience.
Since we're looking for two Project Managers, the orientation for these roles will vary. Focus for both positions are to plan, lead and follow-up different customer project to ensure delivery according to expectations at the right time, the right cost and with the right quality. One of these roles will focus on to coordinate projects mainly remote from our office, and the other role will include more travelling to various shipyards around the world. In this role, the destinations can be almost anywhere in the world and normally occurs around four times a year. At the shipyard, you operate as the natural staff leader for the installation and overhaul project and serve as the customers point of contact.
What we can offer
Value creating and challenging roles where you are right in the centre of driving our projects from start to finish and where no days are the same. You will get a good mix of business management, technology and networking with customers and colleagues in a global arena. As an employee in Kongsberg, you will be part of a global company that delivers world class marine products and work in close collaboration in a highly competent organization. We can offer flexible working hours and the option to work partly remote based on your work tasks.
Qualifications and experience
To best fulfil our needs and make this a perfect fit, you should have a technical or financial background preferable with project management experience. High level of English, both written and verbal, is important and communication skills in other languages is considered an advantage.
As Project Manager you will have to understand our products on a higher technical level, therefore it is an advantage if you have a basic technical understanding. However, focus for this role is to have the right personal skills to coordinate and lead our projects and the ability to quickly learn and adapt to the various needs of our customer.
We are looking for you with the ability to drive processes from start to finish and act on own initiative. Flexibility is key to handle changes along the way, and the ability to see obstacles as challenges will be vital to thrive as a Project Manager. An open mind with a focus on what the customer need is important, but also to make sure that budget and scope is fulfilling the agreed contract. For us networking and clear communication are important, therefore your ability to build relationships, create a stable work atmosphere and coordinate the project team is fundamental to succeed.
Location: Kristinehamn, Sweden
Last day to apply: 2023-02-12
For this position we work with personality and ability tests, which may be sent to you if you proceed in the process. Please state in your application which two of these positions you find most interesting. Interviews can start during the application period as we wish to fill this position immediately.
Point of contact
Peter Mähler, Head of Project Management, Aftermarket Projects
Julia Palmqvist, HR Specialist
Kongsberg Maritime, a subsidiary of KONGSBERG, is a global marine technology company, providing innovative and reliable technology solutions for all marine industry sectors including: merchant, offshore, subsea and naval. Headquartered in Kongsberg, Norway, the company has manufacturing, sales and service facilities in 34 countries. Kongsberg Maritime is part of KONGSBERG, an international, knowledge-based group delivering high-technology systems and solutions to clients within the oil and gas industry, merchant marine, defence and aerospace.
Kongsberg Maritime in Kristinehamn consists of 280 engaged people working with sales, research, development, design, service and assembly of market leading solutions for different types of vessels. Our Hydrodynamic Research Centre provides world leading CFD and Testing capabilities in support for our Product centres and customers globally.
Our Global Customer Support division is responsible for Kongsberg Maritimes services, upgrades and support in the aftermarket. Our 2300 employees are present in 34 different countries around the world. During the operational lifetime of more than 30.000 installations, we ensure cost-efficient delivery of services, upgrades and spare parts in order to secure availability and predictability to our customers.
At Kongsberg, we believe in tackling challenging problems and delivering extreme performance for extreme conditions. We do that through excellent products and services developed for delivering the greatest benefits to our customers.
WORLD CLASS – through people, technology and dedication
Bedrift

Kongsberg Gruppen

Søknadsfrist

12.02.2023

Bransje

Holdingselskaper

Utdanningskrav

Påkrevet

Arbeidserfaring

Ønskelig

Adresse

, Kristinehamn, Sweden
Värmland
search.country.SWEDEN

Antall stillinger

1

karriere-kode

4954067