Bedrift

KappAhl AS

Søknadsfrist

30.08.2022

Stillingsfunksjon:

IT

Stillingstype:

Day

Bransje:

Holdingselskaper

Utdanningskrav:

Påkrevet

Arbeidserfaring:

Ønskelig

Adresse:

, Göteborg
Västra Götaland
search.country.SWEDEN

Antall stillinger:

1

karriere-kode:

4692112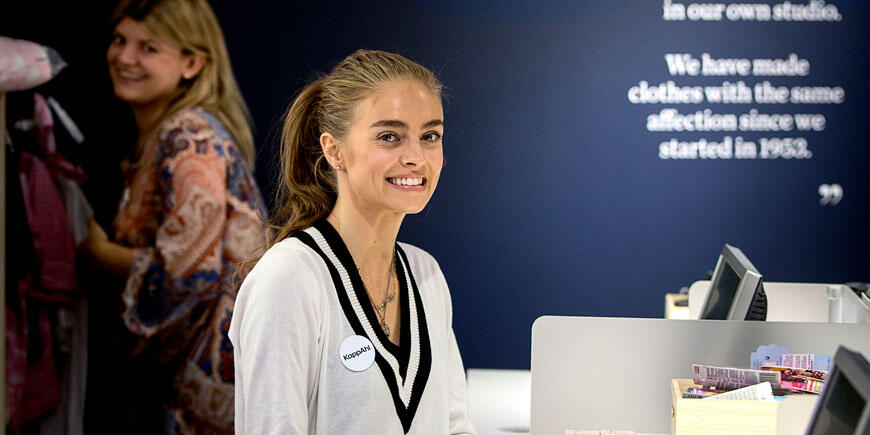 KappAhl AS
IT Solution Responsible Purchase
Holdingselskaper
Welcome to workdays filled with development, creativity, and fantastic colleagues! The retail industry is undergoing challenges that will change the demands on us as an organization and our ability to adapt to our customers new buying patterns. We are seeking our new IT Solution Responsible Purchase. Do you want to join us on our digitalization journey and be a part of giving Kappahl access to the latest technology? Apply today!
Kappahl exist to celebrate diversity in everyday life. We want to broaden the definition of diversity to include many different ways of living life – empowering people to stay true to themselves at any given time, our customers as well as our employees.
We offer you:
The role of IT Solution Responsible for Purchase, Assortment Planning & Merchandise Planning is the perfect combination of working close to the business and being IT-oriented! As part of our Purchase team, you are responsible for the development and management of the systems we have within our purchase and planning area. You work in close collaboration with the solution architect to meet the requirements of the business and follow up our external IT partners based on the development need. Together with other IT Solution responsible in the business, you drive the overall system development forward.
We have gathered everything between software development, traditional digital operations, and business development under one and the same department – the IT department. Working with IT at Kappahl provides a fun mix of technology and fashion retail in a very creative environment. You are heavily involved in driving Kappahl's core business forward as opposed to being solely a delivery department, a way of working that leads to the realization that Kappahl is no longer just a fashion company but also a technology company.
Your profile:
We are seeking you who are solution-oriented and likes to drive solution from idea to implementation. You enjoy having many contact areas, where you are stimulated by working at a high pace within a large organization. You have a good ability to familiarize yourself with the business's processes and see how IT solutions can support them. You like to be creative and find new ways, but also to get immersed in a challenging problem. You are structured and can communicate freely in English and Swedish.
You have
An academic degree within a relevant field
Solid experience of similar IT solutions, previously worked in a client role with an IT supplier
Good understanding of system integrations and system methodology
You recognize yourself in our values – Inclusive, Courageous and Joyful!
Are you interested?
The position is permanent, placed at our head office in Mölndal. Kappahl wants to be A Place To Belong therefore we work with a hybrid working environment. This means you can work remotely when it is more suitable for your work schedule.
We look forward to your application as soon as possible, but no later than the 30:th of August, via www.kappahl.se/lediga-jobb. We apply continuous selection.
Kappahl celebrate diversity and strive to eliminate all forms of discrimination. We are committed to creating an inclusive environment for all employees and candidates.
Apply today!
Contact information:
If you have questions about the position or the recruitment process, you are most welcome to contact Anki Jansson, IT Manager, number 070-523 33 79.
Bedrift

KappAhl AS

Søknadsfrist

30.08.2022

Stillingsfunksjon:

IT

Stillingstype:

Day

Bransje:

Holdingselskaper

Utdanningskrav:

Påkrevet

Arbeidserfaring:

Ønskelig

Adresse:

, Göteborg
Västra Götaland
search.country.SWEDEN

Antall stillinger:

1

karriere-kode:

4692112