Bedrift

Kongsberg Gruppen

Søknadsfrist

21.08.2022

Stillingsfunksjon

IT

Ansettelsesform

workTime.Day

Bransje

Holdingselskaper

Utdanningskrav

Påkrevet

Arbeidserfaring

Ønskelig

Adresse

, Horten
HORTEN
search.country.NORGE

Antall stillinger

1

karriere-kode

4690310

Oppdatert 02.07.2022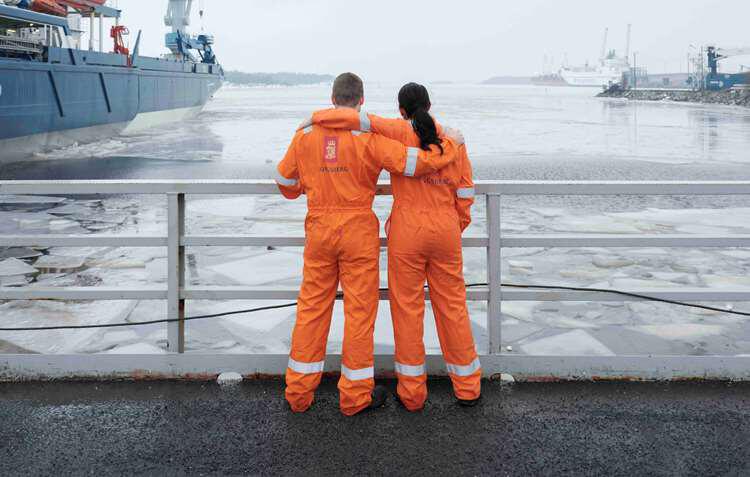 Utgått annonse
Søknadsfristen for denne jobbmuligheten er passert
Kongsberg Gruppen
DevOps Engineer
Holdingselskaper
At Kongsberg Maritime's (KM) Sensors and Robotics (S&R) facility in Horten, we develop market leading technologies for underwater detection and classification. Our systems are essential in a broad range of maritime operations, such as naval missions, fisheries and marine research
The Winson software team consists of more than 25 developers located in Horten, Bergen, Villajoyosa (ES) and Great Yarmouth (UK). We currently develop Winson desktop applications for KM's Fish Finding, Ocean Science, Naval and Mapping product lines using a shared code base. Our developers are split across four teams, and use an agile, scrum-like development process. To meet future demands, we are currently hiring a DevOps engineer.
What you will do
In this position, you are responsible for maintaining our Azure DevOps based automated build and test system, making sure that we are always ready to integrate new features and deploy updated versions of our applications. You will collaborate closely with our expert team of developers, to improve the way we manage our source code, packages, and artifacts. You will also take part in re-organizing our software platform to meet future needs, possibly involving GPU processing, cloud, containers, virtualization, web technologies, etc. You will work closely with our current Lead DevOps Engineer, training to assume full responsibility for our DevOps system within the next couple of years. You will also participate in DevOps and general SW coordinating activities across the Sensors & Robotics division, and all of KM.
Both newly graduates and experienced workers with the right background will be considered.
Required qualifications
B.Sc. (or higher) degree in Computer Science
Good programming and analytical skills
Experience with agile development
Good written and oral Norwegian and English communication skills
Expertise in any of the following fields is beneficial
Automated build and test systems
Development tools such as Microsoft Visual Studio, MSBuild, Azure DevOps Server or similar
Scripting languages (PowerShell, etc)
Experience with version control systems (git, etc)
You are able to
act on own initiative, make things happen and accept responsibility for the result
use a methodical and systematic approach, plan ahead, define clear priorities and allocate resources effectively
create a stable and re-assuring work atmosphere and support and encourage the team.
demonstrate specialist knowledge and expertise in own area
co-operate well with others, share knowledge, experience, information and support others in the pursuit of team goals
What we can offer
With us, you will be offered a competitive salary and benefit packages with good development opportunities in an international environment. We offer flexible working hours and the option to work remote or from home office and flexible holiday arrangements in addition to a good pension and insurance scheme. We offer an inspiring and safe work-environment and the possibility to work with sustainable and exciting solutions for the future.
Work location
Horten, Strandpromenaden
Point of contact
Software Development Manager Jan Ove Bakke +47 99203995
Kongsberg Maritime, a subsidiary of KONGSBERG, is a global marine technology company, providing innovative and reliable technology solutions for all marine industry sectors including: merchant, offshore, subsea and naval. Headquartered in Kongsberg, Norway, the company has manufacturing, sales and service facilities in 34 countries. Kongsberg Maritime is part of KONGSBERG, an international, knowledge-based group delivering high-technology systems and solutions to clients within the oil and gas industry, merchant marine, defence and aerospace
Our Sensors and Robotics division develops and delivers world class connected sensors and smart robotics for Marine, Research and Naval applications. The division has the responsibility for KM's leading offering of Underwater Mapping systems, Underwater Positioning, Marine Robotics, Fishery and Naval Sensors, Precision Positioning and Sensing Solutions.
At Kongsberg, we believe in tackling challenging problems and delivering extreme performance for extreme conditions. We do that through excellent products and services developed for delivering the greatest benefits to our customers.
WORLD CLASS – through people, technology and dedication
Applications will be reviewed on an ongoing basis
Bedrift

Kongsberg Gruppen

Søknadsfrist

21.08.2022

Stillingsfunksjon

IT

Ansettelsesform

workTime.Day

Bransje

Holdingselskaper

Utdanningskrav

Påkrevet

Arbeidserfaring

Ønskelig

Adresse

, Horten
HORTEN
search.country.NORGE

Antall stillinger

1

karriere-kode

4690310

Oppdatert 02.07.2022